A century of firsts
A dialogue between past and present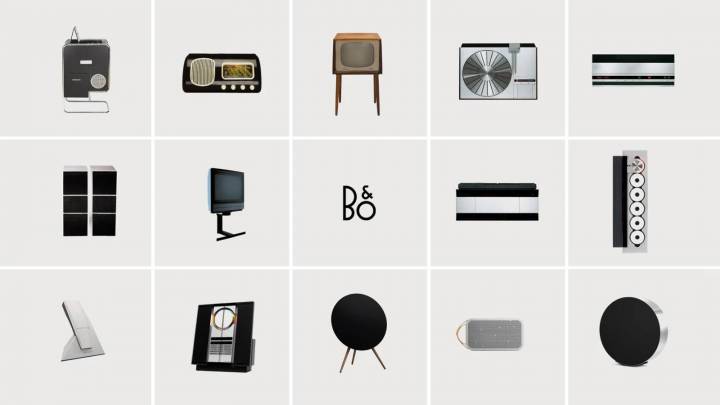 From the beginning Bang & Olufsen hase not just predicted, but also shaped home design trends. The century of firsts includes reinventing the turntable and introducing touch-sensitive controls that defined the look of an era. Bang & Olufsen pioneered the creation of universal remote controls, as well as connected home speaker setups. The latest Bang & Olufsen speaker technology leads the electronics industry in longevity and upgradeability.
1934
Hyperbo 5 RG Steel
Designed by Bang & Olufsen, this very early piece of sound-as-furniture was ahead of its time and a true example of design history. It was inspired by the Bauhaus movement and founder Peter Bang's Marcel Breuer desk chair and only very few were produced.
1939
Beolit 39
The Beolit 39 was the first in a series of radios from Bang & Olufsen and introduced the new way of wording the products starting with Beo. The innovative, organically shaped bakelite radio took its inspiration from a Buick dashboard. In honour of this true icon, its name also served as inspiration when Bang & Olufsen launched its On-the-go category back in 2012 with Beolit 12.
1959
Beovision Capri TV
The elegant teak wood 17" TV on fixed legs was one in a series of televisions, which looked to the Danish modern furniture movement in expression, material and form. The long legs, rounded corners and slightly tilted grey screen in front of the picture tube was a major step towards a more minimalist appearance.
1972
Beogram 4000
Designed by Jacob Jensen, this was a cutting-edge technological landmark. The record player was distinguished by an innovative use of a tone-arm that moved tangentially, rather than diagonally, and thereby reproduced the sound the way it had been recorded. The unique suspension absorbed the horizontal movements from the surroundings, making Beogram 4000 more "dance proof" than any other record players on the market. The Beogram 400 was celebrated in the MoMa design collection for its stylish combination between the teak wood and aluminium surface along with its innovative vision in function.
1976
Beomaster 1900
Designed by Jacob Jensen, this radio receiver and amplifier broke ground as it challenged the industry with its touch-sensitive opening and closing, easily accessible primary functions versus hidden secondary functions. It is part of the MoMa permanent collection and won the ID Award in 1976.
1984
Beovox CX 100
Designed by Jacob Jensen, these classic passive loudspeakers are among the most successful in Bang & Olufsen history and was in production until late 2003. The clean design with the aluminium cabinet and black fabric is timeless and retro all at once.
1985
Beovision MX 2000
Designed by David Lewis, the Beovision MX2000 was a completely different kind of TV. Visually the television was remarkable because of its contrast screen and technically it introduced stereo sound, automatic channel search and a state of the art remote control. With its lean-back design on the floor or table it took a more casual take on TV design.
1986
Beocenter 9000
Designed by Jacob Jensen, this cassette recorder, CD player and radio was a further development of the Beomaster 1900 by the same designer. Avantgarde not only in its mirroring aluminium and glass surface, but in its easy touch fields of the glass panels and the hidden functions only visible when the CD or cassette tape was changed.
1996
BeoSound 9000
Designed by David Lewis, this standing version of the BeoSound 9000 is a flawless example of innovation, technology and movement in the Bang & Olufsen legacy. The 6-CD changer is the fastest in the world. If allowed to continue its momentum it would travel 100km/h in just 5,5 seconds, matching sport cars of today.
1998
BeoCom 6000
Designed by Henrik Sørig Thomsen, this cordless telephone is curved in profile and simple in shape. Characterized by having a cutting edge wheel allowing various lists with recently dialed or stored numbers to be easily scrolled through. It came with a charger bases for wall or table mounting.
2003
BeoSound 3200
Designed by David Lewis, this classic radio and CD player also known as BeoSound Ouverture when launched in the early 90s marked a new era of design, emphasising the function of the machine. The vertical play-back of a CD was a first ever in the world and allowed the product to be mounted on the wall. The glass doors will respond to a wave of the hand, automatically opening and revealing the controls in the bottom.
2012
Beoplay A9
Designed by Øivind Alexander Slaatto, this perfectluy round, powerful one-point music system is a multiroom speaker designed like a piece of furniture. Embellished with beautiful fabric, an aluminium ring and wooden legs, the speaker is customisable making it fit into every room.
2015
Beoplay A2
Designed by Cecilie Manz, this On-the-go product weigh only 1,1 kg and is designed to be light and portable without compromising on sound quality. The speaker is made of extruded aluminum, has a luxurious quality leather strap for an easy grip and sound coming from either side.
2016
Beoplay A1
The shape itself, the flat cylinder, was quickly decided on from very early on in the process. We wanted it to feel smooth and soft in your hands, as you handle it a lot. In and out of your bag, hanging loose and getting a characterful patina from being used in everyday life.
2018
Beosound EDGE
Designed by Michael Anastassiades, Beosound Edge is an immersive, minimalist, simple unbroken circle designed for intuitive touch and motion and delivers impeccable sound performance. The sophisticated wireless speaker rolls gently and debuts the world's first Active Bass Port.
2019
Beovision Harmony
Designed by Torsten Valeur, this television is a brand new experience in sound and vision: a choreographed performance of magical movement and acoustic clarity, vivid imagery and human-centric design. Sound, craftsmanship and design merge in this new, visionary TV. The crafted oak wood and aluminium fronts sublime technical instruments, delicately tuned by hand and ear to reveal all details of music and sound.
2022
Beoplay EX
As versatile as they are beautiful, these earbuds with wireless charging case and active noise cancellation bring deep sound and snug comfort in one sleek package.
2022
Beosound Theatre
Four patent-pending acoustic innovations in one sleek soundbar envelop you in sound from every angle. Made to fit any TV, and last for generations.
Choose Beosound Theatre as a standalone soundbar, or combine it with a 55", 65" or 77" screen for a truly cinematic experience.